The looking glass



Project for the international architecture competition 'Sudapan: Endless(s)trips' Mexico, 2008. Honorable Mention. With Annaik Deceuninck, Annelies Van Hauwe, Dieter Van Acker, Alexander Vanysacker and Bert Rogiers.

Modern tourism steers away from the characteristic concentration of giant hotel blocks and overcrowded beaches. Tourists seek for a more exclusive experience in a 'natural environment', detached from local reality . These 'fantasy islands' seem deserted at first sight but are in fact highly controlled. Vacant space is an inevitable condition to keep up the illusion, nature acts as a background for luxurious entertainment. Unintentionally, resort tourism coincides with nature preservation.

In the Riviera Maya, the hotel-resorts generate their own latent cities, which provide supplies and staff. However, if not well balanced this initially 'self-regulating system' becomes it's own worst enemy. A growing city could destroy the 'natural', anti-urban environment required by the resort. City and resort form an unwilling symbiosis, possible of rendering each other impossible.

To maximize both parties' growth and development, the economical logic must be extended. The tourist should not be distracted by local influences. And withdrawal from tourist scenery stimulates the city's autonomy. In combination with the distinct geography, this specific social system carries a unique potential: a functioning linear city.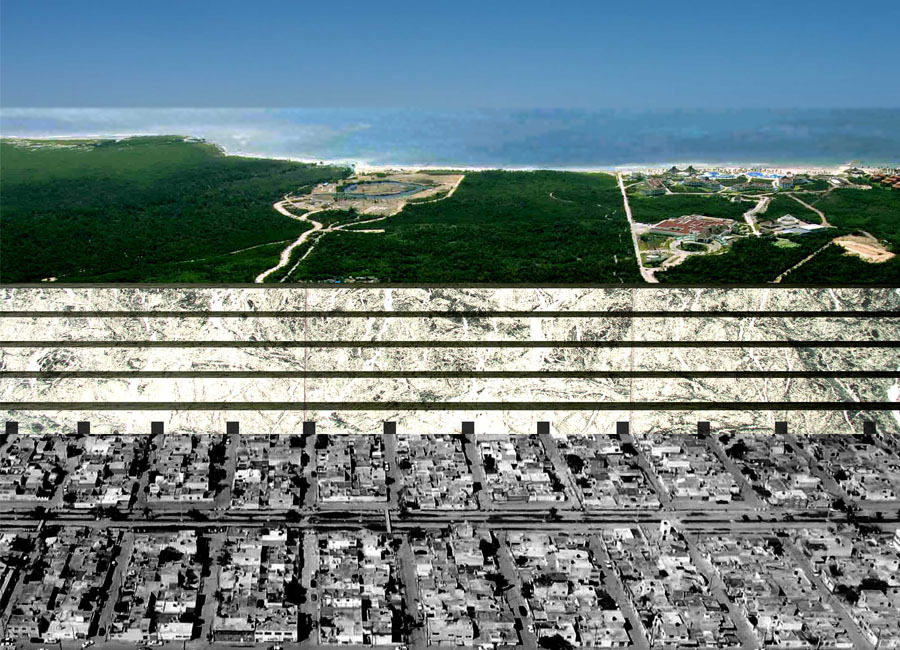 (Excerpt from the project text)

The highway, which now separates beach resorts and urban developments, is reinforced. A monumental, multifunctional wall-building shields the resort from the growing city it generates. To the resident, it is the linear centre of a young city; housing schools, hospitals, cultural and administrational facilities inside its crisp, marble walls. The city can finally liberate itself from its creator and define its own identity. From a withdrawn elevated coastline, citizens can overview their revenues. The building's down flowing shape makes a connection with the existing urban fabrics while vaguely reminding it of authentic local culture.

To the tourist, the wall-building forms an endless mirror, doubling its idyllic setting. Every reference to an outside reality is banned. He feels as though he's on a deserted island, surrounded by nature and detached from every day life, not aware that thousands of others are having the same exclusive experience at the same time. At night, the rooms behind the mirror light up. Casinos and clubs seemingly appear out of nowhere, flames attracting tourists like moths. The morning after, both tourists and citizens each go back to their side of the line, to the illusion of total independence.